Author of the chapbook "After Dinner Mints" (Foothills Publishing, 2005), Maria Lupinacci is a Pushcart Prize Nominee whose work has been featured in PRIVATE International Review, Perigee: Publication for the Arts,The MAG: The Muse Apprentice Guild, Wicked Alice Poetry Journal, U.S. 1 Publications, Gromagon Press -NOX Anthology of Dark Poets Against Abuse, Poetry Super Highway, Zygote In My Coffee.com, Tryst3, Adagio Verse Quarterly, Erosha, Lily, VLQ-Verse Libre Quarterly, Morbid Outlook, Poetry Life and Times, Point of Life.com and various other electronic and in print publications. Her manuscript "Premonitions and Potions" was chosen as Runner-Up for The Annual Bordighera Poetry Prize, 2005.

Ms. Lupinacci is a Certified Massage Therapist, Reiki Master and Integrated Energy Therapist.

Now Available:
After Dinner Mints
Poetry Chapbook by Maria Lupinacci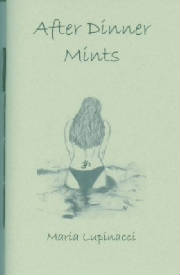 Published by Foothills Publishing
Click here to order After Dinner Mints
NOX - An Anthology of Dark Poets Against Abuse (Gromagon Press, 2006)
Featuring poetry by:
Ellen Williams, Ria Sarno, Mykel, Moonfyre, Rainey Moon, Marysia, Maria Lupinacci, James Houtain, Eric Hathaway, Nora Gupton, Gabrielle, Laura Marie DePierre, Malcolm Deeley, Dylan Cowles, Benjamin Coulter.
All proceeds from sales of
NOX - An Anthology of Dark Poets Against Abuse
being donated to Community Action Stops Abuse (CASA). Orders for the Nox Anthology may be placed by inquiring at
orders@gromagonpress.com