After Dinner Mints

Poetry Chapbook by Maria Lupinacci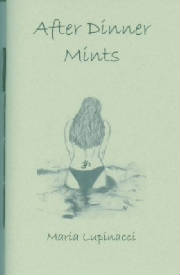 Published by FootHills Publishing
From the book:
Stained With Grey
Liquid dream,
you pretentious serpent who trips
me into somebody who cares.
I loathe your cure, your
vomit of truth that trickles
through my frame.
The metal burns teasing the batter,
my fix calls me home. It paints my wings
in shades of blue.
Rebel, rebel, my antidote, curse
the innuendos. I am flying
free. I have entered the purple
palace of Tainted Means.
I am a moon kissed by stars, caught by a lasso
weaved out of pins. "To the ground, to the ground."
I hear the worms chant.
I shout back, "Crawl mud-eaters,
Crawl! Twist and grovel. Spiral
down, spiral down."
I'll meet you in the next meantime
of colored yesterdays
smothered
by black and white
masochistic screams.
In dedication to Cristina Marie Riggs ~
Septemeber 3, 1968 - June 20, 1991