A review of Maria Lupinacci's book,
After Dinner Mints

Written by:
Patricia Gomes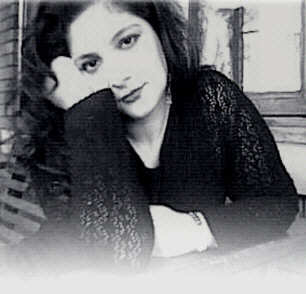 I've followed the poetic career of Maria Lupinacci for several years now; in that time, I've watched in awe as she matured from an introspective poet to one of universal insight, as evidenced by her collection of poems in After Dinner Mints.
Ms. Lupinacci's poems invoke a feeling of disquiet; in her world, all is never exactly as it seems—what should be up, is often down, and like Alice, you're left wondering which side of the Looking Glass is the safer side, the lesser of two evils.
"The night delivers secrets to my pillow.
Inside, I know I should stop
here, should save what comes next
for the story I am writing,
the one where the girl is not so innocent,
is not the Princess posed
under the tree who awaits said dark-eyed King,
but is the other—
There is a collection of Chinese fortunes
in the bottom of my purse,
kept there for quick reference
on the days that make no-sense,
my favorite tells me 'There is a serpent
coiled under a rock'
He meets me at noon..."
In that poem, So Say the Naive Ones, Lupinacci builds skillfully towards a haunting climax. And she's very good at doing so, proving herself again and again, as poem follows haunting poem.
You'll find yourself caught in the web she weaves in Degrees and Sensibilities:
"He never understood my strange language,
the way I couldn't sleep if the moon
was a little past full
when Gemini moved into Mars
three point nine degrees.
He thought me odd, my drama
was too much for any man to conceive,
though he would tell me how the walls
suddenly became one with the bed
when I left the room
and he needed my breath…"
When I finished the poem, I wanted so badly to meet He (the lucky bastard!) … and simultaneously hoped that I never would. (poor schmuck!) "He" makes cameo appearances throughout this spellbinding collection; I wish him well—and will say a prayer for him.
There are five parts in this thirty-nine paged tome; each part is named after a candy (Smidgens, Tangerine Twists, Hard Tacks, etc.) making the book title appropriately delicious. WARNING: Don't let her fool you! Sweetness and virtuousness are not to be found within these pages. Lupinacci writes boldly (and often sorrowfully) of addiction, compulsion, and duplicity.
As I'm typing, the bulb in the lamp behind me has blown out; Lupinacci's poetic energy has a long reach. From Saline Solutions:
"Today I will place your picture
under a glass of water,
chant a Tibetan Mantra
I learned
to release negativity…"
What's wrong, friend—excerpts just a tease? Buy the book. As far as I'm concerned, at eight bucks, you're getting one helluva deal. I leave you with these parting words from Seasoning the Fall, make what you will of them, but know there is truth in Lupinacci's lines:
All that is taken in,
funneled through the diaphragm,
released as a new breath,
eventually returns.

Maria Lupinacci is a 2003 Pushcart Nominee whose work has been featured in Dark Moon Rising, Erosha, Point of Life, Lily, readingdivas, Tryst, VLQ-Verse Libre Quarterly, and Morbid Outlook. Her future publications include the upcoming anthology Cosmic Brownies published by The Sun Rising Poetry Press.
Ms. Lupinacci is a Certified Massage Therapist, Reiki Master, and an Integrated Energy Therapist who currently resides in New Jersey.
After Dinner Mints is available for purchase at:
Review first published in Adagio Verse Quarterly Spring/Summer Issue 2005